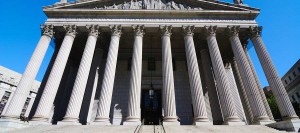 Administrative Closure v. Termination  of Immigration Proceedings
Author: New York Immigration Attorney Alena Shautsova
I would like to share this article as a little clarification as to what happens in Immigration court (at times) and the difference between two, almost identical decisions (as many clients see them): administrative closure and termination of Immigration proceedings.
In Immigration Court, a person may have various forms of relief, or sometimes, does not have any benefit that he/she qualifies now, but may qualify in the future. Also, sometimes, when a case is pending against a person, he/she cannot apply for a relief, he/she would otherwise qualify for.  For example, a person in removal proceedings, cannot submit he/her application for adjustment of status with USCIS but has to do so with an Immigration Judge (IJ).  A judge has to close a person's case in court first so that a person can submit his/her application administratively.  Or, in another example, a person with a final order of removal, and an approved I 601A waiver, cannot leave the country without the case being reopened and closed. (If, of course, a person would like to come back to the US after a trip abroad, or if he/she does not want to apply for yet another waiver).
What happens in such situations, that a person's removal case has to be closed by the judge. But there is a difference in how a judge can "close" a case, depending on the purpose of the closure.
An IJ may administratively close the case: this is not a true closure of the case. An administrative closure simply takes the case off the active court calendar, and a person would not need to come to court for a while (usually it is done to give a person more time to prepare an application or to resolve some other issues that take a long time.) A person with an "administrative closure", if leaves the country, will be self-deporting him/herself.
An IJ may terminate the proceedings. This means a complete resolution of the case. The proceedings can be terminated with prejudice (it means that the government will not be able to restart the case based on the same grounds); or without prejudice (it means the government will be able to reinstate the removal on the same grounds against the person).
Simply put it, one would want the case to be "terminated" instead of administratively closed. Only those with pending asylum applications, who want to keep an opportunity to extend their EADs would probably prefer an administrative closure instead of a termination.
If you have questions regarding the Immigration court proceedings, reach out to us at  917-885-2261.